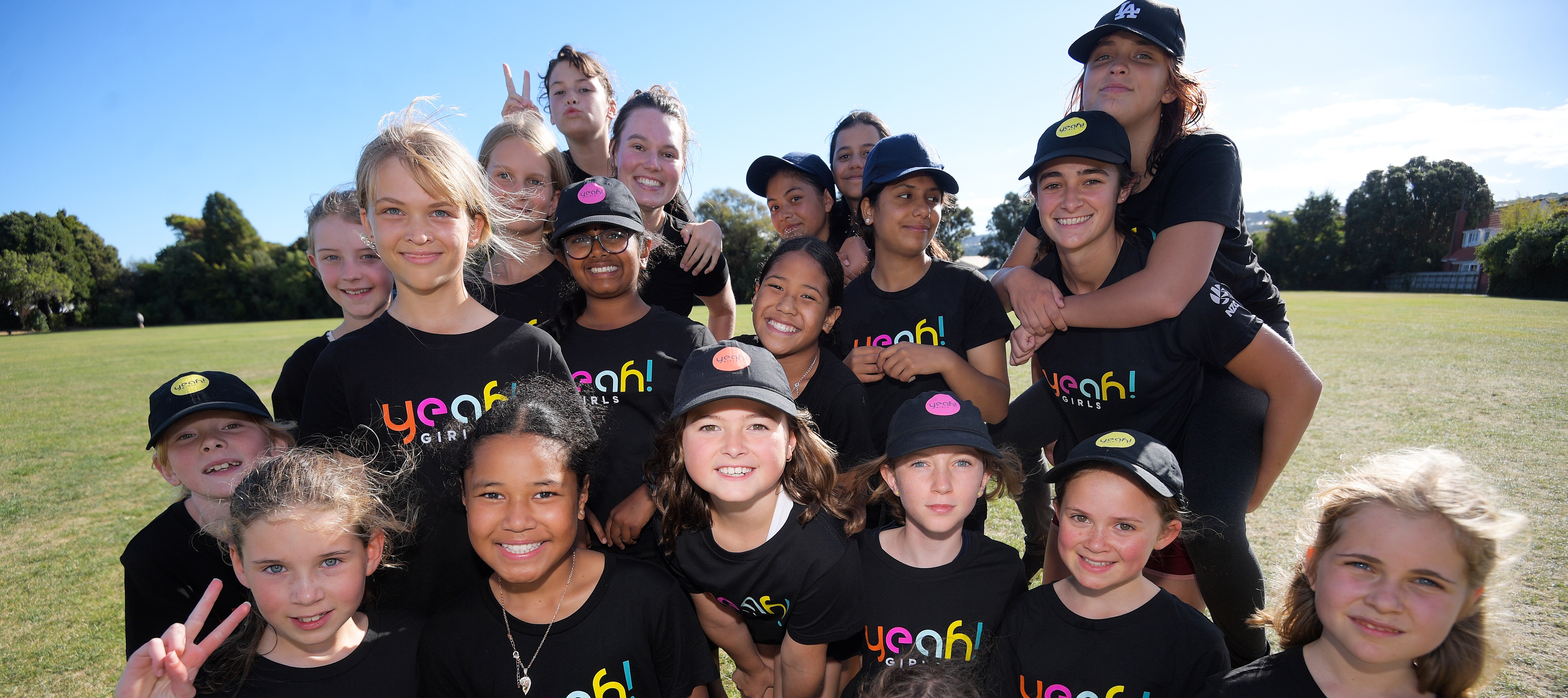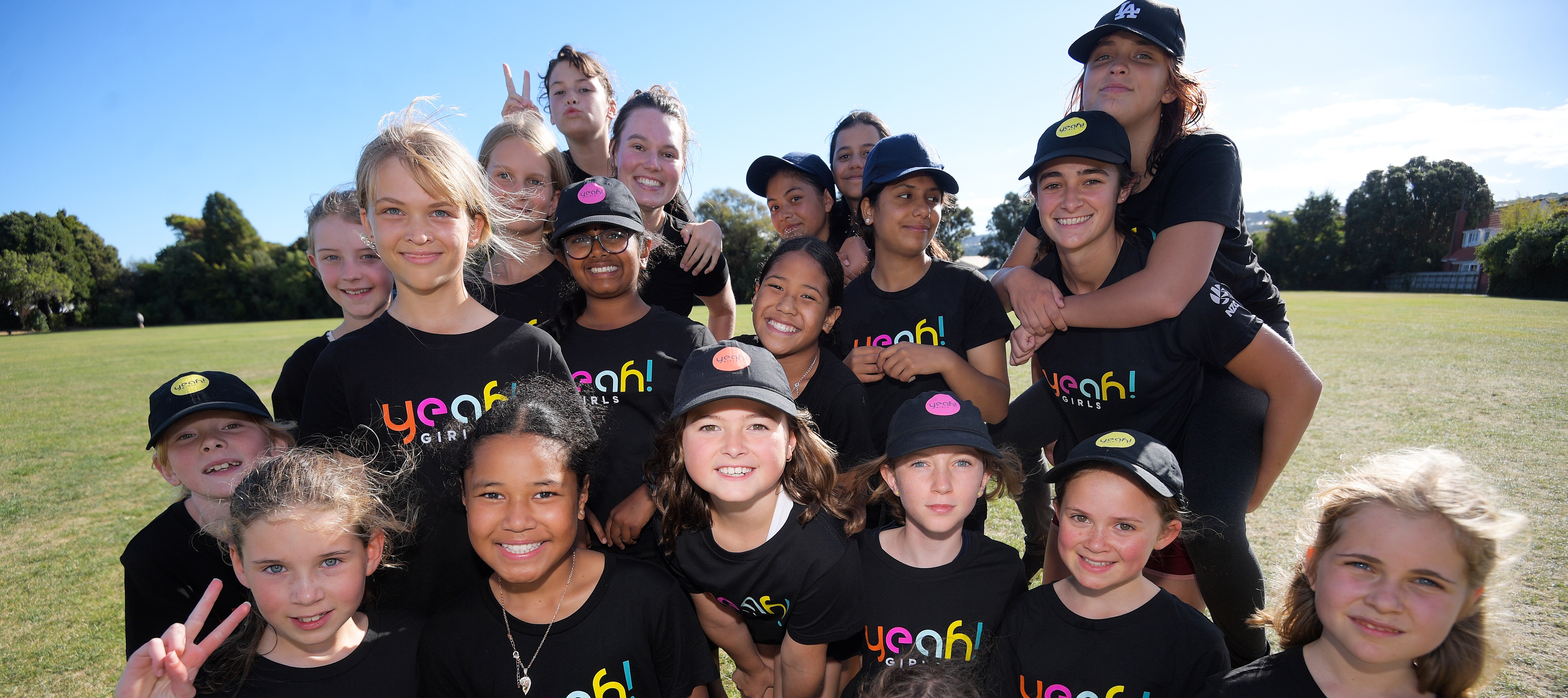 Each session will involve playing a variety of fun games and skill based activities, as well as modified cricket games.  To keep things fresh and exciting, we use a range of different equipment such as vortex, hula hoops, tennis racquets and even sponges on hot days!
Women and girls currently make up a small portion of cricket players in New Zealand, and many perceive cricket as 'boring' and a 'boys game'. 

The purpose of Yeah! Girls is to encourage girls to be active with friends and participate in a 'modified' cricket programme in a no-pressure, fun, and enjoyable environment. 

Changing girls perceptions of cricket, and being active in a fun environment are key objectives.
Yeah! Girls is aimed at girls that may have never played cricket before, so be sure to come along and give it a go. Your Activator will teach you everything you need to know. Bring your friends along as well!   Yeah! Girls is specifically designed to be inclusive to all girls and all abilities. If you have any concerns, please let us know or chat to your Activator at your first Hub session.  
 
All equipment is provided.  Just bring a hat, water bottle and wear clothes you can be active in.
 
Definitely not. We value female participation, and this is a programme which has been designed specifically for young females. We want girls to be actively involved and at the centre of the action.
 
Yeah! Girls is targeted at 10 - 17 year olds
Generally, there is one session per week which is designed to be action packed and no longer than 60 minutes.  There will still be plenty of time to participate in other sports and activities during the week.
 
An enthusiastic and friendly Activator will be leading each session.  They will create a fun and supportive environment as well as joining in on the action themselves.  All Activators have completed New Zealand Cricket's Activator training programme
 
That is not a problem - your Activator will introduce you to the other girls at the session, and many girls come along without knowing anyone.  The session is focused on fun and enjoyment, and your Activator will make sure everyone is included in the fun.
 
Yeah! Girls costs vary depending on the location in NZ, and the duration of the Hub.  The cost of each Hub is listed with all Hub details.  For some Hubs, there is an option to pay per session or pay for the full programme. 
 
Yes, for the 2022/23 season there are some variations in Hubs in different areas across New Zealand. These are aimed at older girls (generally 15 – 17 years old), as we continue to evolve and improve how we deliver cricket to young females.
 
Wairarapa: Yeah! Girls BYC
BYC stands for 'Backyard Cricket' – it's a fun, exciting activity where you can round up a few of your friends and enter a team (teams of 4 people). You don't need to have played cricket before, it only takes 45mins and everyone gets to be involved. 
Otago and Canterbury: Yeah! Girls Smash
Yeah! Girls Smash is soft-ball, social cricket. It's fun and engaging, and each session includes a quick 10min skill lesson followed by an action-packed 40min game. It's 'pairs cricket' – so everyone gets equal chance to bat and bowl. The focus is on having fun, giving things a go and playing with and against other girls. 
Wellington: Yeah! Girls MOVE
Yeah! Girls MOVE is an opportunity for you to try out new activities and build your fitness in a positive environment with your mates. The programme is suitable for any level of fitness and young women aged 13-18 years are welcome to join.
 
Yeah! Girls Hubs occur in term 1 and term 4 of the school year.
We ask all participants to register for their chosen Yeah! Girls Hub, just the same as when joining a sports club.

Registration information is held centrally by New Zealand Cricket, and accessed by the Activator so they can manage the Hub, plan for the number of girls attending and ensure the hub is delivered safely.

Registration information also provides insights for NZC around the participation of young females in physical activity.  Please note, your information will not be shared with other organisations.