Inaugural squads have been finalised ahead of the ground-breaking Māori Wāhine National Cricket Tournament in Heretaunga between Friday 13th and Sunday 15th October.
Five teams will compete for the newly developed 'Rona McKenzie Taonga' – a nod to the late Rona McKenzie (Ngāti Awa), the first Māori WHITE FERNS captain.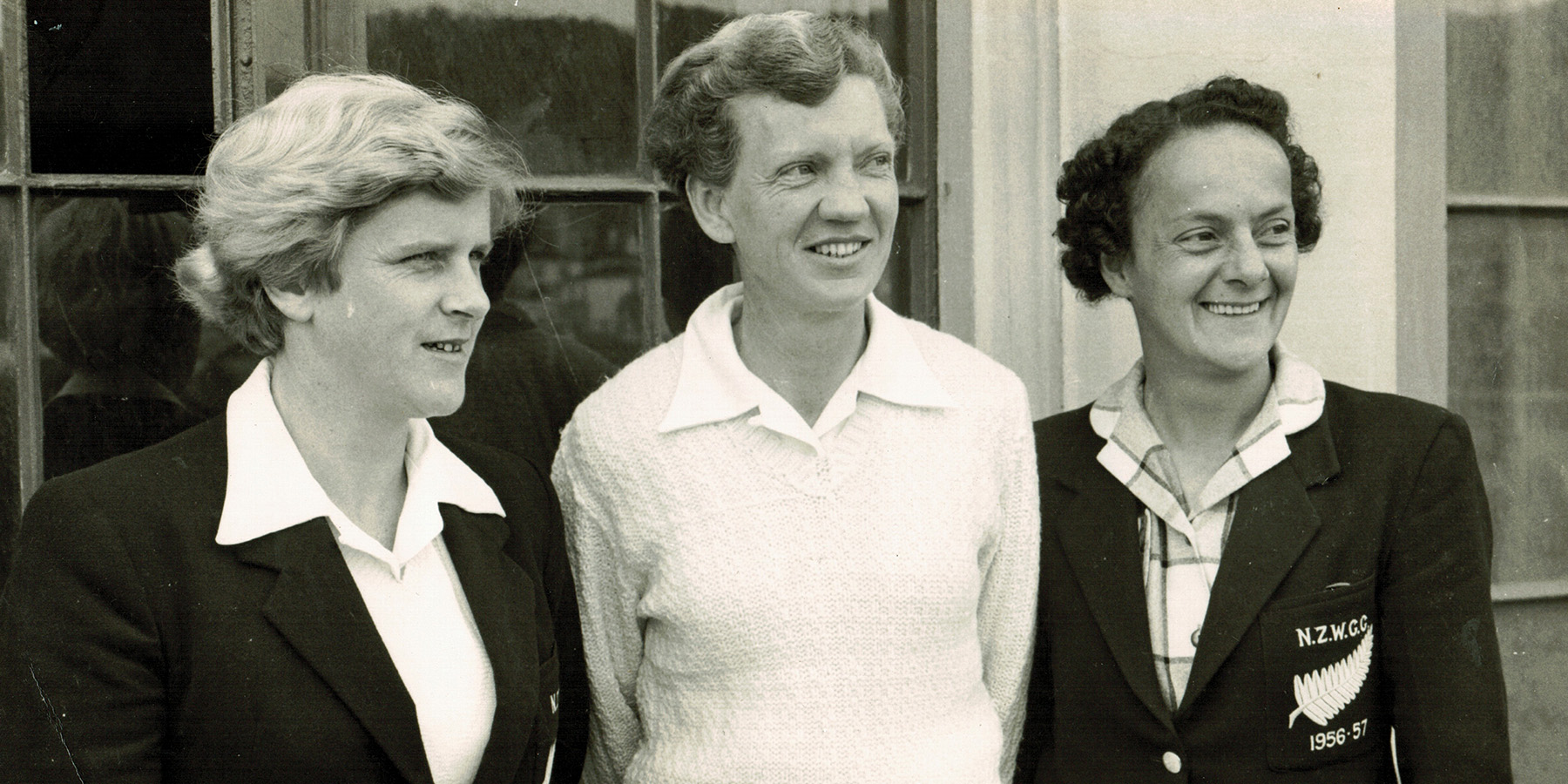 McKenzie (pictured above), a pioneer in the women's game, appeared in seven test matches for New Zealand (captaining all matches), and played domestically for Auckland.
McKenzie famously led the 1957 WHITE FERNS tour to England, travelling for a month by sea. The playing group were required to raise their own funds, make their own uniform, and organise accommodation amongst other challenges.
McKenzie was appointed as a Member of the Order of the British Empire in the 1975 New Year Honours list for services to women's cricket.
Rona McKenzie's Grand Nephew, Darren McKenzie-Potter (Ngāti Awa) commented on what the naming of the trophy meant to the McKenzie whānau.
"The whānau are incredibly happy to see Rona honoured for her contribution to women's cricket both on the field as a player and after her retirement as a coach, mentor, manager and administrator," said McKenzie-Potter.
"Rona would be very humbled, but also proud to have the trophy named after her."
The five competing teams have named squads featuring up-and-coming prospects, along with some domestic and international experience.
Auckland Hearts domestic representative, Skye Bowden (Ngāti Hine, Ngāpuhi), will lead a Tāmaki Makaurau (Auckland) side which boasts exciting young talent.
Sophie Court, Mollie Drumm, Holly Lightbourne, Christelle McGuire, Jess Smith, Anika Tauwhare and Anika Todd all represented Auckland last summer in domestic age-group cricket and will be an exciting group to watch.
The inaugural McCaw Lewis Northern Māori wāhine will look toward Northern Districts representatives Holly Topp (Ngāi Tahu), and star batter Sam Barriball (Ngāti Rangitihi, Ngāi Tūhoe), for leadership both on and off-field.
Barriball has appeared in 20 One Day Internationals and eight Twenty20 Internationals for the WHITE FERNS, while Topp has made 33 appearances for the Northern Brave.
NZ Maori Schoolgirls representatives; Elle Archer and sisters Dayle and Kiri Anderson (Tainui) are also players to watch.
Central Districts Wāhine Māori boast three contracted Central Hinds in their side, namely; Georgia Atkinson (Ngāti Kahungunu), Ocean Bartlett (Ngāpuhi, Ngāti Porou) and Kerry Tomlinson (Te Whānau a Apanui, Ngāti Porou).
Tomlinson will player-coach the team, on the back of a recent appointments with the Samoan National Women and NZ Māori Secondary Schoolgirls.
Recent CD U19 Women's representatives; Olivia Clark (Kai Tahu), Reese Drager (Ngāti Porou) and Macy Lyford (Ngāti Kahungunu) will be rearing to go, after finishing as runners-up in the National U19 Women's Tournament last summer.
Capped WHITE FERNS wicketkeeper, Jess McFadyen (Ngāi Tahu), headlines a strong Te Whanganui-a-Tara (Wellington) Wāhine Māori squad.
She will be joined by fellow Wellington Blaze contracted player, Caitlin King (Ngāti Tūwharetoa), who will captain and spearhead the bowling attack.
Te Waipounamu (South Island) Wāhine Māori have named a young side, also filled with former age-group representatives across Canterbury & Otago.
Fast bowler and capped Otago Spark, Harriett Cuttance (Waikato Tainui), will be key to her side's success, alongside fellow quick, Zarah Moana (Ngāti Porou).
Northern Māori captain, Holly Topp,  is excited about the tournament, and what the opportunity signified to the players.
"What I am most looking forward to about the tournament is the cricket, obviously, but more so the fact that we will be gathered, connected by whakapapa and a common love for the sport." said Topp.
"This being the inaugural event makes it even more special to attend,"
"Ngā mihi nui New Zealand Cricket and Northern Districts for putting the pathways in place to help us get to this point. Now we're excited to make our whānau proud."
Look below for full squads and further tournament information.
Tournament Details:
Fri 13th – Sun 15th October
Cornwall Park, Hastings (3 x grass pitches)
5 teams, T20 format, four games with a bye
Tāmaki Makaurau Māori Wāhine:
Skye Bowden (c) – Ngāti Hine, Ngāpuhi
Claire Crooks (vc) – Ngāti Hine, Ngāpuhi
Sophie Court – Ngāti Awa
Mollie Drumm - Ngāti Porou
Billie East – Ngāpuhi, Ngāti Kahu ki Whangaroa
Kaitlyn Halliday - Ngāruahine
Raiha Jeory Reynolds - Ngāti Porou
Holly Lightbourne – Te Rarawa, Te Aupōuri
Christelle McGuire - Ngāpuhi
Jess Smith – Ngāpuhi, Tainui
Anika Tauwhare – Ngāti Whātua Ōrākei, Ngāi Tahu
Anika Todd - Ngāti Whātua o Kaipara, Te Uri-o-Hau
Head Coach: Corey Todd - Ngāti Whātua o Kaipara, Te Uri-o-Hau
Asst Coach: Katie Perkins
McCaw Lewis Northern Māori Wāhine:
Holly Topp © - Ngāi Tahu
Dayle Anderson - Tainui
Kiri Anderson – Tainui
Elle Archer - Ngāti Māhanga, Tainui
Sam Barriball - Ngāti Rangitihi, Ngāi Tūhoe
Jessica Benge - Te Āti Haunui-a-Pāpārangi
Mia Chatterton - Te Rarawa
Ella Farrell - Ngāpuhi
Mereana Hyde - Tainui, Ngāpuhi
Zamera Ikiua - Ngāpuhi
Elizabeth-Rose Pengelly Woodhead - Te Aupōuri, Ngā Puhi, Ngāti Hine
Sadie Stewart - Ngāi Tahu, Ngāti Kuia, Te Āti Awa
Olivia Tremain - Ngāpuhi, Ngātiwai
Head Coach: Michael Rameka - Ngāti Tūwharetoa
Asst Coach: Mereana Hyde - Tainui, Ngāpuhi
Central Districts Wāhine Māori:
Georgia Atkinson (c) - Ngāti Kahungunu
Ocean Bartlett (vc) - Ngāpuhi, Ngāti Porou
India Bartlett - Ngāpuhi, Ngāti Porou
Olivia Clark - Kai Tahu
Reese Drager - Ngāti Porou
Madison Greenaway - Ngāpuhi, Ngāti Tūwharetoa, Ngāti Hauā, Ngāti Maniapoto, Ngāti Raukawa
Macy Lyford - Ngāti Kahungunu
Sam Mackinder - Te Whānau-ā-Apanui
Olivia McKnight - Ngāti Porou
Molly Noema-Barnett - Tūhoe
Jasmine O'Dell - Te Whānau-ā-Apanui
Kerry Tomlinson - Te Whānau a Apanui, Ngāti Porou
Head Coach: Dustin Emms-Healy - Kāi Tahu, Kāti Māmoe, Waitaha
Asst Coach: Kerry Tomlinson - Te Whānau-a-Apanui, Ngāti Porou
Te Whanganui-a-Tara Wāhine Māori:
Caitlin King (c) - Ngāti Tūwharetoa
Nicole Baird (vc) - Ngāti Ruanui
Gemma Guiney (vc) - Waikato, Ngāti Maniapoto
Greta Abbott - Ngāti Maniapoto
Sasha MacArthur - Ngāi Tahu
Jess McFadyen - Ngāi Tahu
Millie Newell - Te Ātiawa
Emma Parker - Ngāpuhi
Keisha Pegg - Te Ātiawa
Taylor Pewhairangi - Ngāti Porou
Isabella Quin - Ngāi Tahu
Faye Tahere - Ngāpuhi, Ngāi Te Rangi
Estella Wallace - Ngāi Tahu
Jo Wawatai - Ngāti Porou, Tūhoe, Te Whānau-a-Apanui
Head Coach: Rochelle Roddick
Asst Coach: Damian Parker – Ngāpuhi
Te Waipounamu Wāhine Māori:
Libby Burne - Ngāti Mutunga
Harriett Cuttance - Waikato Tainui
Emily Evans – Waikato Tainui
Danielle Hemi - Ngāti Kahungunu
Brooke Huddleston - Ngāti Kahungunu ki Wairarapa
Ana Kendrick - Ngāti Tūwharetoa
Grace Kitchen – Ngāruahine, Ngāti Raukawa
Zarah Moana - Ngāti Porou
Charlotte Morris - Ngāi Tahu
Addison Stackhouse - Ngāi Tahu
Katriel Thomas – Ngātiwai
Head Coach: Tanya Morrison – Ngāi Tahu               
Asst Coach: Tama Walker - Ngāti Porou