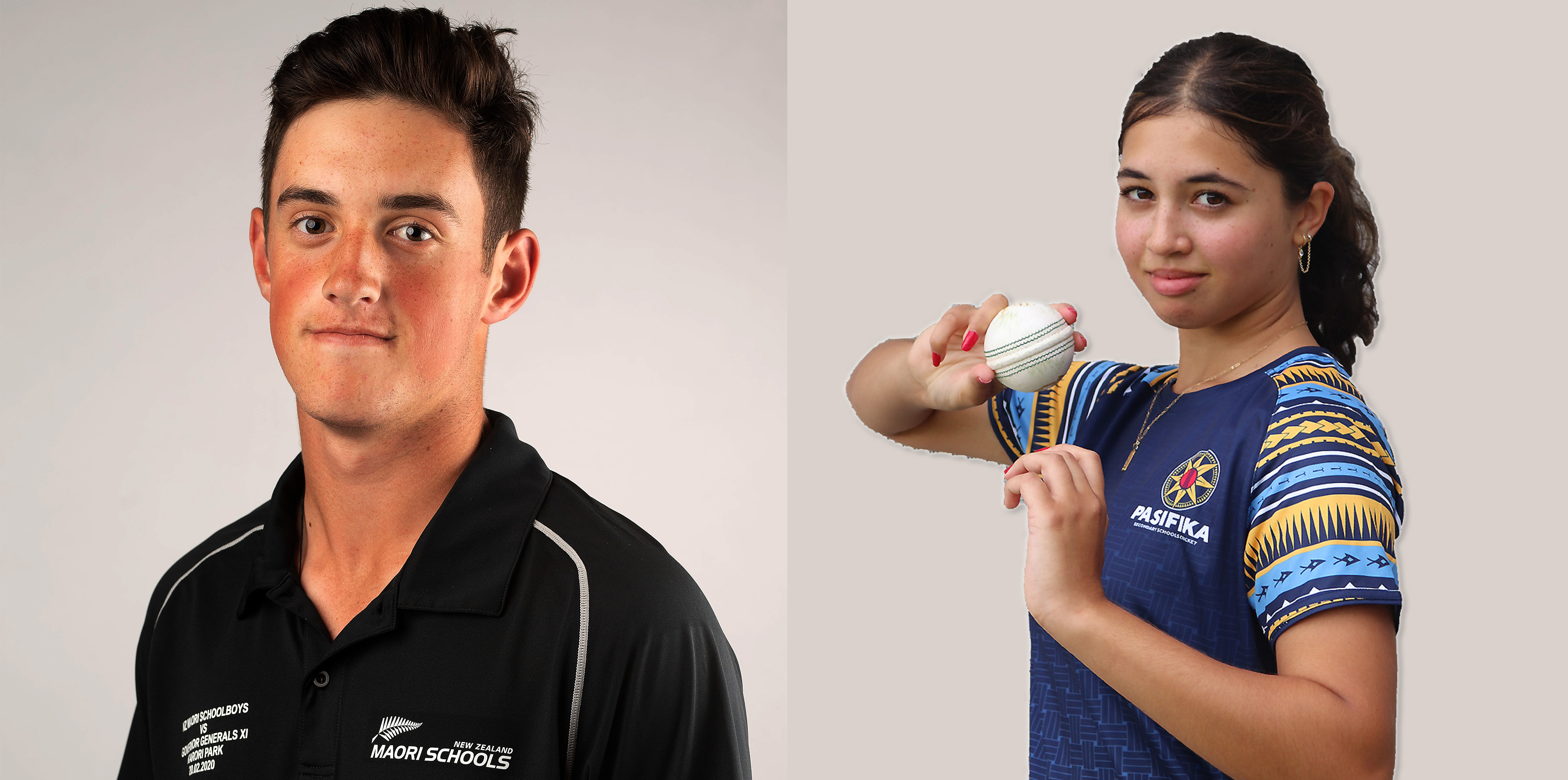 Pasifika Schools and Māori Schools have named their squads to compete for their inaugural match-up in Auckland this month.
The teams will play three T20 matches over January 24 and 25 in what is designed to be celebration of culture and cricket.
Pasifika Schools Manager, Garry Wood, said the squads, comprised of Auckland-based players of Pasifika descent, contained talented players who are beginning to make their mark in Auckland Cricket age-group teams.
 "Our players are motivated to do well and are ready to showcase Pasifika cricket to the wider community.
"They have been busy playing within Auckland representative sides, and I'm sure they will be up for the challenge." said Wood.
The inaugural Pasifika teams boast impressive sporting pedigree throughout.
Solomon Nash, a batting all-rounder from St Paul's College (Auckland) has not got to look far for sporting inspiration.
Solomon's father, Dion Nash, played over 100 matches for the BLACKCAPS as a lively fast bowler.
His mother, Bernice Mene, represented the Silver Ferns for 10 years, playing 78 tests and was appointed a Member of the New Zealand Order of Merit, for services to netball.
Oscar Su'a, son of Samoan-born Test Cricketer, Murphy Su'a, will also take the field for Pasifika Schools.
The schoolgirls side is highlighted by Francesca-Eti Tonu'u (Mount Albert Grammar), a talented young wicketkeeper and a handy lower order bat.
Francesca-Eti is the daughter of the multi-talented Ofisa Tonu'u - a former All Blacks player and member of the Samoan men's national cricket team.
The Māori Schools have also named strong squads, with Major Association age-group representatives scattered throughout.
Wellington U19 representative, Lachie Bailey, will represent Māori Schoolboys for a third time, and will be a key player with both bat and ball.
Auckland U19 all-rounder, Josh Olliver, impressed for Auckland Māori earlier in the year, and is another player with a bright future.
Kiri and Dayle Anderson, Ella Gibson, Anika Todd, and Jess Smith all return for the Māori Schoolgirls, and will be important players with both bat and ball.
Another returning player, Estella Wallace, was impressive with the bat for Christchurch Girls' at the recent Gillette Venus Cup - another young player with plenty of talent.
NZC welcome whānau and friends to the "Whānau Fun Day" - Tuesday 24th January (11:30am), where fun games, giveaways, free ice blocks and a sausage sizzle will be available.
All matches will be live scored on nzc.nz as well as PlayHQ.
Find full squads & a draw, below.
PASIFIKA SECONDARY SCHOOLBOYS

PASIFIKA SECONDARY SCHOOLGIRLS

1.      Kaden Cossill

Niuean / Māori / Pakeha

2.      Nelio Mateo

Cook Islands

3.      Joshua McNaughton

European/Samoan

4.      Nathan McNaughton

European/Samoan

5.      Noah Mead

Samoan/Cook Island

6.      Solomon Nash

Samoan

7.      Mataora Loti Rapana

Cook Islands

8.      Luka Rakuraku

Cook Islands

9.      Oscar Su'a

Samoan

10.  Austin Sood

Tongan/Indian

11.  Enoka Sului

Samoan

12.  Justus Telea

Samoan

13.  Shawn Vaetoru

Cook Islands

14.  MJ Williams

Cook Islands

1.      Luella Bracey

Samoan/Pakeha

2.      Suapeli Fakatava

Tongan

3.      Heitonga Fakatava

Tongan

4.      Zamera Ikiua

Cook Islands/Tongan

5.      Kamayani Jolly

Tongan-Indian

6.      Gisele Naidu

Fijian-Indian

7.      Sophia Samuels

Cook Islands/Māori

8.      Ane Tetawa

Cook Islands

9.      Angeti Tetawa

Cook Islands

10.  Francesca-Eti Tonu'u

Samoan

11.  Sonnia Vaia

Tongan/Cook Islands

12.  Esther Williams

Cook Islands

13.  Neena Woollaston

Fijian-Indian

 

Coach: Saumani Tiai

Manager: Garry Wood

Coach: Carol Agafili

Manager: Garry Wood
MĀORI SECONDARY SCHOOLBOYS

MĀORI SECONDARY SCHOOLGIRLS

1.      Lachie Bailey

Ngāti Kuia

2.      Kaiarahi Brunning

Ngāti Raukawa ki te Tonga

3.      Toby Clemett

Ngāti Raukawa

4.      Haydon Danford

Ngāpuhi

5.      Fraser Farrell

Ngāpuhi

6.      Oram Gutsell

Ngāi Tahu, Ngāpuhi

7.      Reece Holmes

Ngāpuhi

8.      Marco Muollo

Ngāi Tahu

9.      Joshua Olliver

Te Āti Awa

10.  Samuel Payne

Ngāti Kahungunu ki Wairarapa

11.  Jerome Robinson

Ngāti Raukawa

12.  Rory Sloan

Ngāti Maniapoto

1.      Dayle Anderson

Tainui

2.      Kiri Anderson

Tainui

3.      Elle Archer

Tainui Ngāti Māhanga

4.      Kate Craig

Ngāti Pikiao

5.      Mollie Drumm

Ngāti Porou

6.      Ella Gibson

Tūhoe, Te Aitanga-a-Mahaki, Ngāti Porou

7.      Kaitlyn Halliday

Ngāruahine

8.      Holly Lightbourne

Te Aupōuri, Te Rarawa

9.      Macy Lyford*

Ngāti Kahungunu

10.  Jess Smith

Ngāpuhi, Tainui

11.  Anika Tauwhare

Ngāti Whātua Ōrākei, Ngāi Tahu

12.  Anika Todd

Ngāti Whātua o Kaipara

13.  Estella Wallace

Ngāi Tahu

 

*Unavailable due to injury.

Coach: Mike Tillett

Asst: Michael Rameka, Keith Vincent

Coach: Tanya Morrison

Asst: Kerry Tomlinson, Justine Dunce
DRAW:
T20 Matchday 1: January 24th, Shore Rd Reserve (Parnell CC)

Pasifika Secondary Schoolgirls v NZ Māori Schoolgirls

Shore Rd Domain, 10:30am

Pasifika Secondary Schoolboys v NZ Māori Schoolboys

Shore Rd Domain, 2:30pm

T20 Matchday 2: January 25th, Shore Rd Reserve (Parnell CC) & Ōrākei Domain

Pasifika Secondary Schoolgirls v NZ Māori Schoolgirls

Ōrākei Domain, 10:30am

Pasifika Secondary Schoolgirls v NZ Māori Schoolgirls

Ōrākei Domain, 2:30pm

Pasifika Secondary Schoolboys v NZ Māori Schoolboys

Shore Rd Domain, 10:30am

Pasifika Secondary Schoolboys v NZ Māori Schoolboys

Shore Rd Domain, 2:30pm