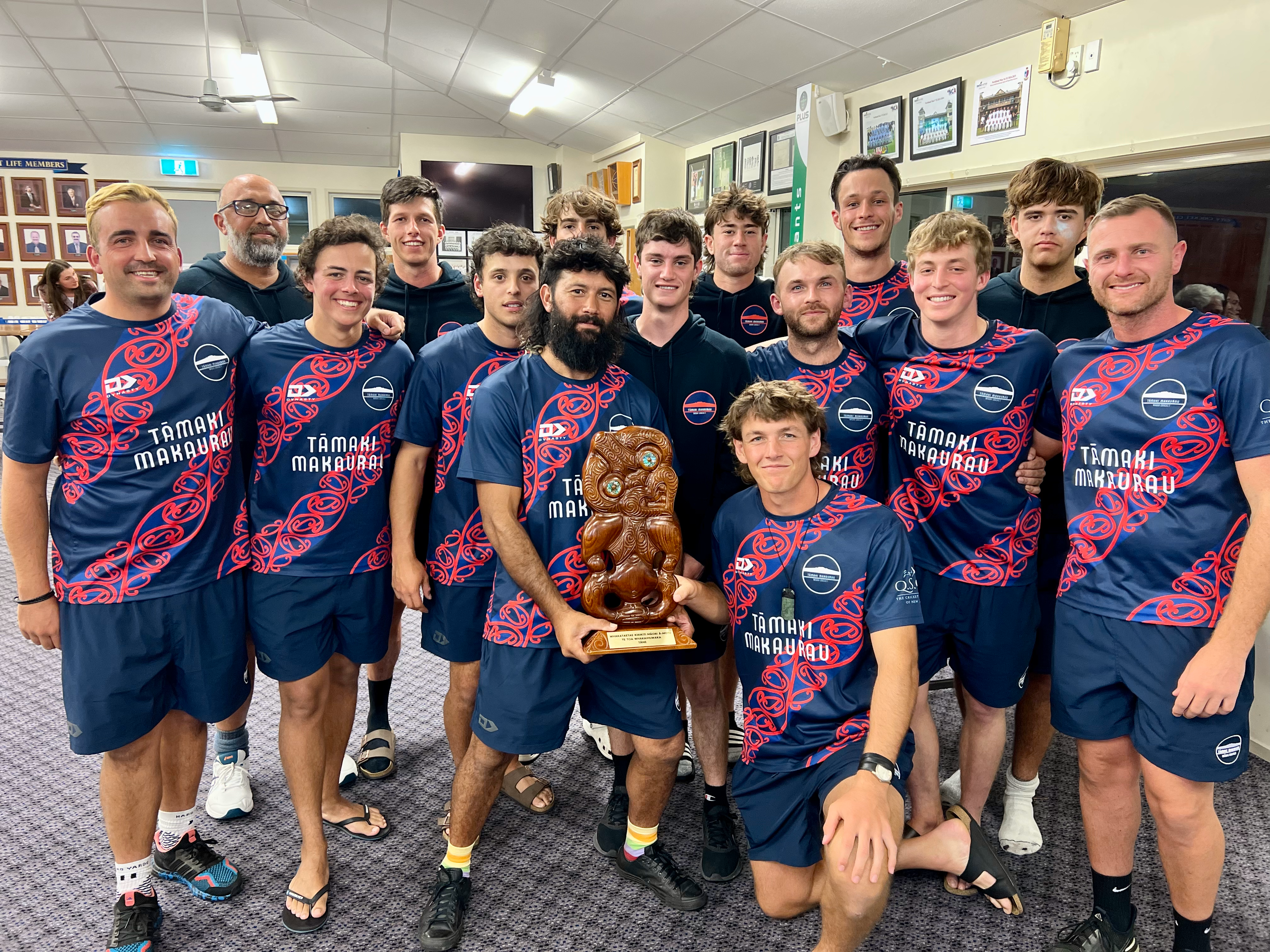 Tāmaki Makaurau Māori has become New Zealand's first Māori national cricket champion, lifting the new NZC trophy undefeated at the inaugural national tāne tournament in Whangārei.
Led by former Auckland Aces rep and Waitākere stalwart Dušan Hakaraia, the team survived a close call against Central Districts Māori on the last morning of the groundbreaking Easter tournament, chasing down victory with just three balls to spare in the penultimate round.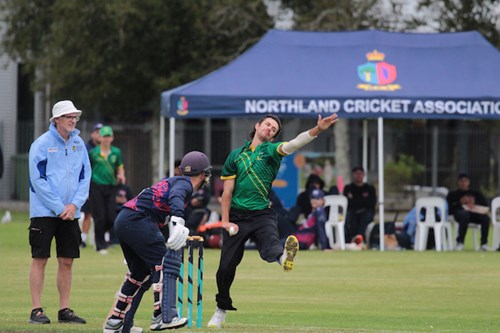 It was the second last-over thriller that Tamaki Makaurau had been involved in over three days of hot competition, having pipped Northern Māori with just two balls to spare in Friday's opening round.
Plenty was riding on the outcome, Cricket Wellington's Te Whanganui-a-Tara having been on equal points with Tāmaki Makaurau after their three wins from four matches.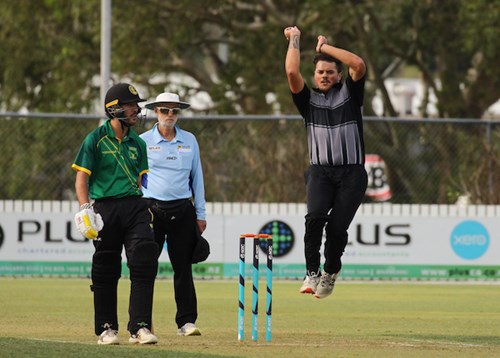 However, with the bye in the decisive round, Te Whanganui-a-Tara could do nothing but watch as Tāmaki Makaurau snatched the title in emphatic style, the Aucklanders defeating Te Waipounamu by 10 wickets at Cobham Oval in Sunday afternoon's last round.
Harry Sinclair cruised to an unbeaten 55* off just 42 balls and Jock McKenzie 38* off 35 as they brought home the clincher in just 12.5 overs, Tāmaki Makaurau having earlier dismissed the South Islanders for 95.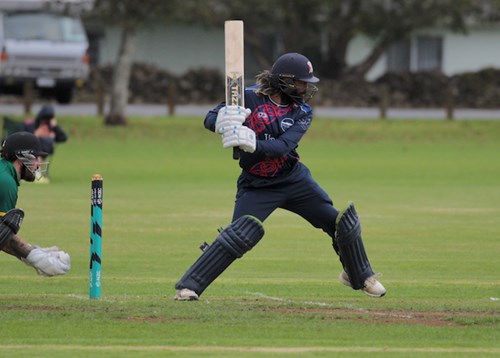 Hakaraia (above) said the T20 tournament was an outstanding platform for players like 21-year-old McKenzie to establish a Māori cricket culture to take forward in future years.
"A handful of us oldies here are pushing 40, and the most exciting thing for us was to see all these younger players and our rangatahi from all the teams playing awesome cricket and knowing that this tournament has a big future.
"It was a weekend that made me fall back in love with the game."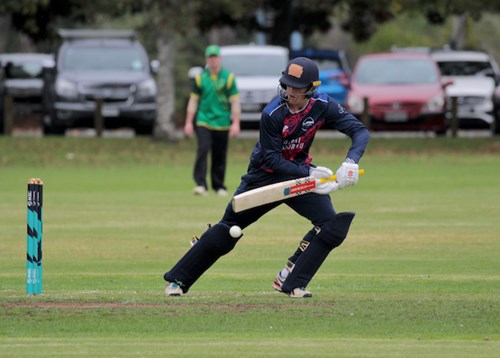 A Blues representative in rugby as well as a former NZ U19 cricket representative, McKenzie (above) was named Player of the Tournament.
He amassed 202 runs from just three innings, including the only T20 century of the inaugural tournament. McKenzie's unbeaten 116* against Te Whanganui-a-Tara flew off just 54 balls, including nine boundaries and nine sixes at Kensington Park in the crucial third-win fixture.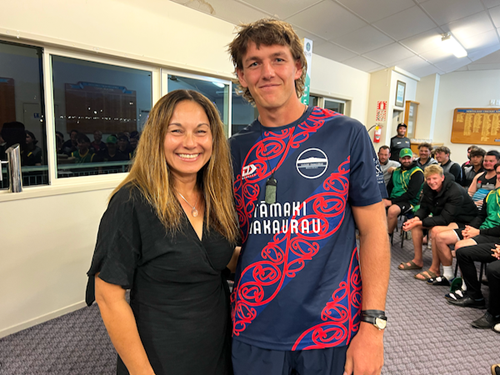 The allrounder is from a cricketing whānau. His brother Angus a current Canterbury first-class representative, while their father Grant played for Northern Districts.
Te Waipounamu paceman Charlie Robson also impressed throughout the weekend and finished with nine wickets, including a sensational 3/7 that ripped out Northern Māori's top order with the first hat-trick in the tournament's history, at Kensington Park.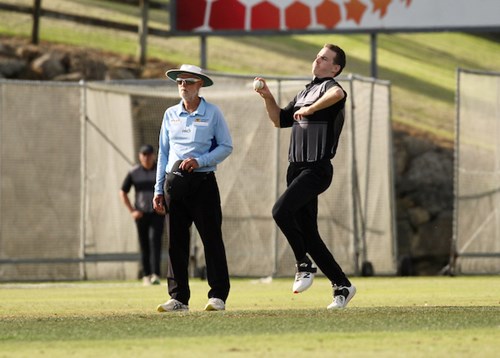 Robson had also bagged 4/26 in an earlier game at the same venue against Te Whanganui-a-Tara. Te Whanganui-a-Tara fought back to win the match, however.
Robson and McKenzie were both named in the inaugural Tournament Team, selected by Northern Districts Life Member and selector Pat Malcon who was instrumental in founding Northern Māori's pioneering Domestic Māori men's side in the 2010/11 season.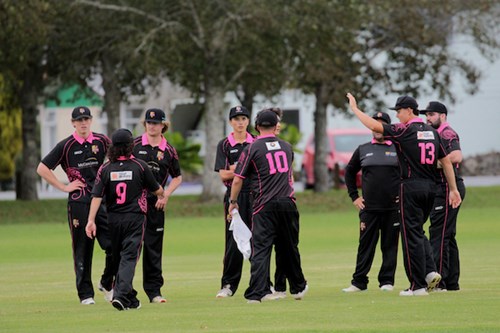 The tournament was capped off by an Easter Monday visit to Waitangi and Paihia - the site of New Zealand's earliest known cricket match, in December 1832 which featured both Māori and Pākehā schoolboys.
Said Hakaraia, "Māori have embraced cricket from the very beginning, but to have a tournament like this - it brings it all together.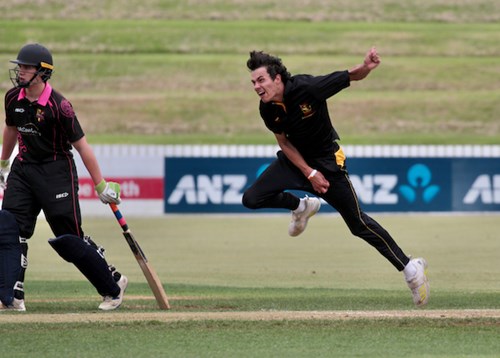 "I would have loved to have been able to play in a tournament like this as a young fella. As I am sure is true of all the teams and players, it means so much to have been part of it this weekend."
The first female NZC Māori National Tournament is planned for Labour Weekend 2023.
NZC Māori National Tournament - Kaitākaro o te Whakataetae | Player of the Tournament
Jock McKenzie, Tāmaki Makaurau Māori, Ngāti Maniapoto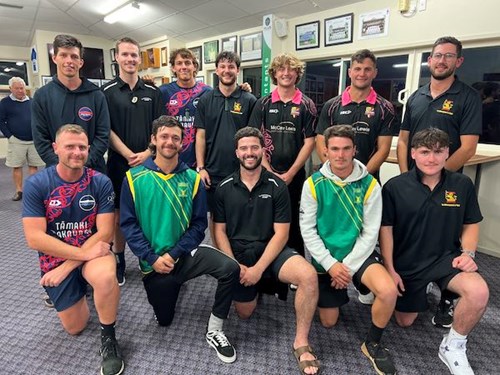 NZC Māori National Tournament Team | Tīma o te Whakataetae 2023
Zack Benton Central Districts Māori, Ngāti Porou, Ngāti Kahungunu, Ngāi Tahu
Ben Brady Tāmaki Makaurau Māori, Ngāi Tahu
Fraser Campbell Tāmaki Makaurau Māori, Ngāti Raukawa ki te Tonga
Curtis Cherrington Northern Māori, Ngāpuhi
Jock McKenzie Tāmaki Makaurau Māori, Ngāti Maniapoto
Ethan Price Northern Māori; Ngāpuhi
Charlie Robson Te Waipounamu; Ngāi Tahu, Ngāti Kahungunu
Mitch Scott Te Whanganui-a-Tara; Ngāti Rangiwewehi
Jesse Tashkoff Te Whanganui-a-Tara; Te Aitanga-a-Hauiti
Bailey Te Tomo Central Districts Māori; Ngāti Raukawa
Alex Thompson Te Whanganui-a-Tara; Ngāpuhi
Oscar Wilson Te Waipounamu; Ngāti Raukawa ki te Tonga, Ngāi Tahu
RESULTS IN BRIEF
• Round One (Friday, 7 April 2023)
Northern Māori 128/8 (20) lost to Tāmaki Makaurau Māori 132/7 (19.4)
Te Whanganui-a-Tara 163/8 (20) beat Te Waipounamu 149/6 (20)
Bye: Central Districts Māori
• Round Two (Saturday, 8 April 2023)
Te Whanganui-a-Tara 184/3 (20) beat Central Districts Māori 117/8 (20)
Te Waipounamu 193/5 (20) beat Northern Māori 117 (16.2)
Bye: Tāmaki Makaurau Māori
• Round Three (Saturday, 8 April 2023)
Te Whanganui-a-Tara 187/7 (20) lost to Tāmaki Makaurau Māori 190/2 (17.5)
Central Districts Māori 101/9 (20) lost to Te Waipounamu 102/3 (12.2)
Bye: Northern Māori
• Round Four (Sunday, 9 April 2023)
Northern Māori 142/3 (18, match reduced to 18 overs) lost to Te Whanganui-a-Tara 148/7 (17.3)
Central Districts Māori 136/4 (18, match reduced to 18 overs) lost to Tāmaki Makaurau Māori 137/4 (17.3)
Bye: Te Waipounamu
• Round Five (Sunday, 9 April 2023)
Central Districts Māori 124/6 (16, match reduced to 16 overs) lost to Northern Māori 126/4 (14.1)
Te Waipounamu 95 (18, match reduced to 18 overs) lost to Tāmaki Makaurau Māori 98/0 (12.5)
Bye: Te Whanganui-a-Tara
NZC Māori National Tournament - Final Standings
1. Tāmaki Makaurau Māori (16 points, 4 wins)
2. Te Whanganui-a-Tara (12 points, 3 wins, 1 loss)
3. Te Waipounamu (8 points, 2 wins, 2 losses)
4. Northern Māori (4 points, 1 win, 3 losses)
5. Central Districts Māori (0 points, 4 losses)
Detailed match results available at NZC PlayHQ